2012: Majestic Spain reign once again
The 2012 UEFA European Championship, commonly referred to as UEFA Euro 2012 or simply Euro 2012, was the 14th European Championship for men's national football teams organised by UEFA. The final tournament, held between 8 June and 1 July 2012, was co-hosted for the first time by Poland and Ukraine, and was won by Spain, who beat Italy 4–0 in the final at the Olympic Stadium in Kiev, Ukraine.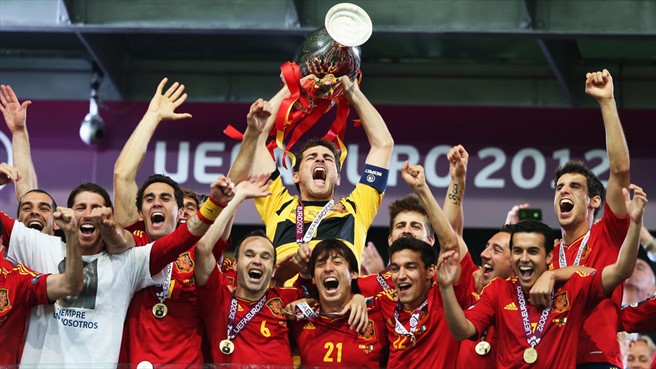 Spain's Iker Casillas lifts the trophy following a 4-0 win in the final against Italy

Spain's progress to the UEFA EURO 2012 showpiece was derided as "boring" by some commentators, but Vicente del Bosque's side rounded off with a memorable final feast.

Talk about saving the best for last. Spain's progress to the UEFA EURO 2012 final was at times functional rather than flashy; even "boring" to some commentators who, having grown fat on the prize cuts of the Roja's previous four years, refused to accept leaner pickings. In the final, though, Spain treated the watching world to a feast.

Vicente del Bosque's side never showed signs of buckling under the weight of expectation as they sought an unprecedented third successive major tournament win. However, robbed of the injured David Villa, the most prolific striker in Spain's history, and with opponents apparently wising up to their style, this was never going to be easy.

That was immediately apparent as they were held 1-1 by Italy in their opening game, and though they made light work of the Republic of Ireland, they endured a nerve-shredding meeting with Croatia in their final group outing. Defeat would have eliminated them, and how close they came to it before Jesus Navas' 88th-minute winner dragged them through.

A misfiring France side proved easier opposition in the quarter-finals but there was little time for well-bitten nails to grow back before their last-four tie with Portugal, their Iberian rivals. Paulo Bento's men, inspired by Cristiano Ronaldo, had come into their own – there was a sense that if they could finish moves as well as they started them they could triumph.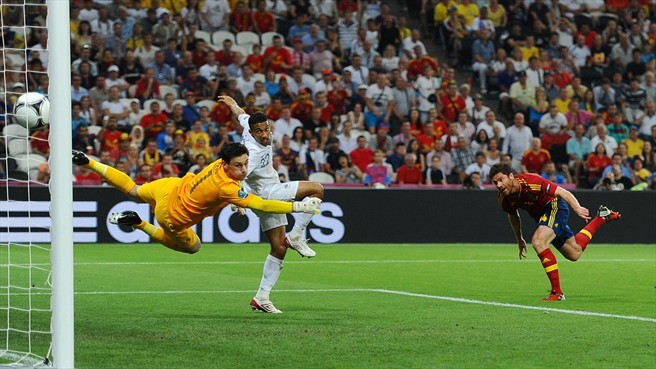 The semi-final was all about defence, though, and after 120 goalless minutes came a penalty shoot-out that flowed one way then the other before Cesc Fabregas sealed it. Many felt Sergio Ramos' contribution was just as telling, however, his chip (audacious at the best of times) exuding confidence when doubts could have restrained them.

Three days earlier the application had been even better when Andrea Pirlo capped a superhuman performance with a Panenka-style penalty as Italy overcame England in their quarter-final shoot-out. Pirlo was outstanding all tournament, his wise head and sage feet hypnotising opponents into submission. For once, in the last four, he was edged out of the spotlight, Mario Balotelli striking twice to extinguish Germany's high hopes.

Italy's thrilling knockout campaign looked to have caught up with them, though, and in the final their tiredness coincided with Spain's new lease of life. The holders were in control from the moment David Silva opened the scoring with a rare header on 14 minutes. A barnstorming second with half-time approaching from the indefatigable Jordi Alba, his first international goal, left the Azzurri with a mountain to climb.

The sight of Thiago Motta, their third substitute, being carried off ended all ambitions, causing Italy to play out the last 28 minutes with ten men – Fernando Torres and Juan Mata capitalised, sealing a record 4-0 win. It was Spain's first competitive victory over 90 minutes against the Azzurri in 92 years and sealed an unprecedented hat-trick of major tournament wins. Yet this feast was as much about quality as quantity.

Results
Final
Portugal 0-1 Greece
Semi-finals
Germany

1-2

Italy
Portugal

0-0

Spain
Quarter-finals
Quarter-finals
Czech Republic

0-1

Portugal
Germany

4-2

Greece
Quarter-finals
Quarter-finals
Spain

2-0

France
England

0-0

Italy
Group stage
Group A
Group B
Poland
Russia
Greece
Poland
Czech Republic
Greece

1–1
4-1
1-2
1-1
1-0
1-0

Greece
Czech Republic
Czech Republic
Russia
Poland
Russia
Netherlands
Germany
Denmark
Netherlands
Portugal
Denmark

0-1
1-0
2-3
1-2
2-1
1-2

Denmark
Portugal
Portugal
Germany
Netherlands
Germany
Group C
Group D
Spain
Republic of Ireland
Italy
Spain
Croatia
Italy

1-1
1-3
1-1
4-0
0-1
2-0

Italy
Croatia
Croatia
Republic of Ireland
Spain
Republic of Ireland
France
Ukraine
Ukraine
Sweden
England
Sweden

1-1
2-1
0-2
2-3
1-0
2-0

England
Sweden
France
England
Ukraine
France

UEFA Team of the Tournament
Goalkeepers

Defenders

Midfielders

Forwards

Manuel Neuer (Germany)
Gianluigi Buffon (Italy)
Iker Casillas (Spain)

Philipp Lahm (Germany)
Fabio Coentrao (Portugal)
Pepe (Portugal)
Jordi Alba (Spain)
Gerard Pique (Spain)
Sergio Ramos (Spain)

Steven Gerrard (England)
Sami Khedira (Germany)
Mesut Ozil(Germany)
Andrea Pirlo(Italy)
Daniele De Rossi (Italy)
Xabi Alonso (Spain)
Sergio Busquets (Spain)
Andres Iniesta (Spain)
Xavi (Spain)

Mario Balotelli (Italy)
Cristiano Ronaldo (Portugal)
Cesc Fabregas (Spain)
David Silva (Spain)
Zlatan Ibrahimovic (Sweden)

UEFA Tournament Golden Boot Award
Fernando Torres (Spain)

UEFA Player of the Tournament
Andres Iniesta (Spain)

Venues
| | | | |
| --- | --- | --- | --- |
| Warsaw | Gdansk | Wroclaw | Poznan |
| National Stadium | PGE Arena | Municipal Stadium | Municipal Stadium |
| Capacity: 56,070 | Capacity: 39,150 | Capacity: 40,000 | Capacity: 39,550 |
| | | | |
| Kiev | Donetsk | Kharkiv | Lviv |
| Olympic Stadium | Donbass Arena | Metalist Stadium | Arena Lviv |
| Capacity: 64,640 | Capacity: 49,400 | Capacity: 37,750 | Capacity: 32,990 |
| | | | |
| | | | |
| --- | --- | --- | --- |
| Ranking | Player | Country | GS (PEN) |
Top 3 Teams of the Past EUROs